Submitted by Larell Adney Strickland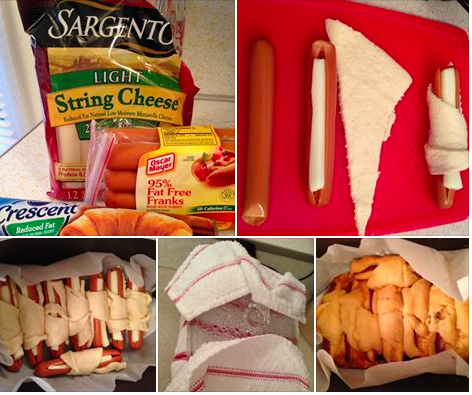 Crescent Hotdogs
Ingredients
1 package (8 hotdogs) 95% fat free hotdogs

1 package (8 rolls) reduced fat crescent rolls (or unbaked croissants)

4 light string (or grated mozzerella) cheese
Instructions
Cut slight slit down length of hotdogs and cut string cheeses in 1/2 lengthwise.

Put a 1/2 cheese strip (or desired mozzerella sprinkle) in each slit in hotdog.

Wrap 1 crescent roll (or unbaked croissant) around each hotdog/cheese and place on parchment (baking) paper in slow cooker.

Cook for 1 hour 20 minutes on HIGH (WestBend 6-quart) which is almost a 6 litre slow cooker

Use tea towel under slow cooker lid and fold over top.

YUM and they even BROWNED!

IF you do NOT have crescents or croissants then make a biscuit mix, roll thin, cut in triangles as pictured and wrap around each hotdog/cheese.

ENJOY! Kids and Adults love them!