Comfort food in a bowl!
Submitted by Cassie Greco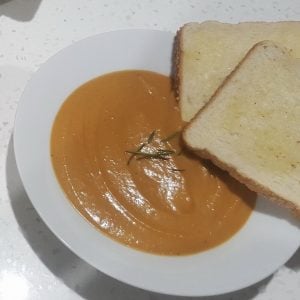 Creamy spiced pumpkin soup
Comfort food in a bowl!
Ingredients
1 small jap pumpkin peeled and cubed

3 small potatoes peeled and cubed

1 small sweet potato peeled and cubed

6 cloves

1tsp minced garlic

Pinch of nutmeg

1/4 tsp cinnamon

Salt and pepper to taste

4 cups of Campbell's vegetable stock

250mls cream

1/2 packet of cream of chicken soup
Instructions
Place all ingredients into slow cooker except for the cream and soup powder.

Cook on low for 6hrs or until veges are tender.

Take out the cloves and blitz in the slow cooker using a hand blitzer or can take out and blitz in food processor (do not drain before blitzing)

Back in the slow cooker with the blitzed mix add in your cream and soup powder whisk it and add a little more salt and pepper to taste.

Place lid back on and cook for a further 1hr on low stirring occasionally

Serve with crusty buttered bread or toast ? enjoy!