Submitted by Simon Christie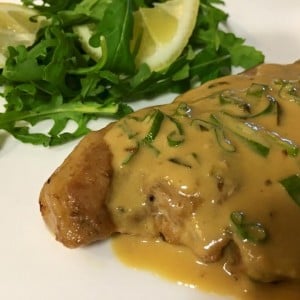 CREAMY MUSTARD PORK CHOPS
Ingredients
4 pork loin chops

1 tsp salt

1 tsp ground black pepper

6 tsp Dijon mustard

1 tsp fresh chopped tarragon

1/2 cup dry white wine

1/2 cup fine sliced shallots

2 Tbsp double cream
Serve with
1/2 lemon cut into small wedges

1 cup per serve rocket lettuce
Instructions
Preheat cooker on HIGH (when using non ceramic style sc bowl)

Sprinkle chops with salt and pepper

Brown chops

Transfer to slow cooker

Combine wine, mustard and tarragon in a separate bowl

Pour over chops

Place lid on with tea towel

Cook on LOW for 1 hour 15 mins

Turn chops and cook for a further hour on HIGH with tea towel

Remove chops and foil wrap together.

Add cream and shallots to cooker and combine on HIGH. NO LID.

In ten or fifteen minutes your sauce will be thickened.

Plate chops and drizzle sauce over serving with lettuce and lemon.

Enjoy.