Submitted by Zorina O'Shea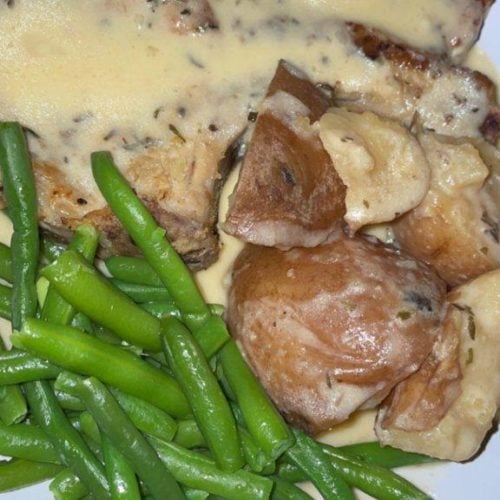 Creamy Herb Pork Chops and Potatoes
Serve with a side of Steamed veggies or salad. The flavour in the sauce is incredible and the pork chops are just melt on your mouth yum!
Ingredients
1.5 kilos of red potato, chopped in quarters

6 Pork Chops

1/2 Tbsp Dried thyme

1/2 Tbsp Mustard Powder

Salt and Pepper to taste

1 and 1/2 cup of chicken stock

1 tsp garlic Powder

1/2 tsp onion powder

1/2 tsp dried basil

2 tbsp butter

3/4 cup of thickened Cream

1 tbsp of cornflour
Instructions
Season each side of the pork chops with salt, pepper, thyme, and ground mustard.

Heat some olive oil in a large skillet over medium-high heat. Once hot, sear the pork chops on each side until brown.

Place potatoes in slow cooker and top with seared pork chops.

Whisk together chicken broth, garlic powder, onion powder, and basil and pour into slow cooker.

Top pork chops with sliced butter.

Cover and cook on high for 3 hours or low for 5-6 hours.

Remove pork chops and potatoes from slow cooker and keep warm.

Stir cornstarch into heavy cream and whisk into liquid in slow cooker. Cook uncovered on high to thicken sauce.

Season to taste with salt and pepper, pour over pork chops and potatoes, and top with fresh parsley. Enjoy!