Lovely creamy comfort food. Always goes down a treat in my house
Submitted by Joanna Wright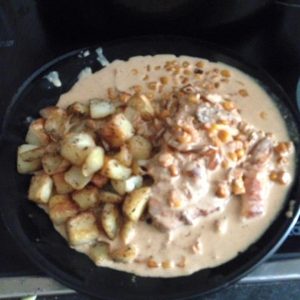 Creamy Garlic Pork Chops
Lovely creamy comfort food. Always goes down a treat in my house
Ingredients
4 boneless pork chops (I used lovely ones from puddledub)

250ml of apple juice

2 ham stock cubes

2tsp of dried garlic and 2 diced garlic cloves (we are a garlic family so I added a bit more)

One red onion sliced

Onion gravy powder

300ml double cream

1tin of sweet corn or 1 cup of frozen

Black pepper to taste
Instructions
Flour the pork chops

Line the bottom of the slow cooker with red onion and chopped garlic

Add the pork chops on top and sprinkle the dried garlic

Add apple juice and sweet corn

Then gently stir in half the cream and add the stock cubes

COOK ON LOW FOR 4 HOURS

(Or so)

Remove the chops and lay them to one side. The sauce will have separated whisk it together (it looks a bit yuck but fine once whisked)

Add the rest of the cream and a sprinkling of gravy granules to thicken

Return the chops and pepper to taste and cook for a further 30 mins on low.

I served with tatties and broccoli and a slice of bread and butter to mop up the sauce. So yummy.... Hope someone else enjoys it aswell

I did leave it sitting for about 1 hour before switching on to marinade but not necessary it was more because I was switching it on as I was leaving

Feel free to add more or less garlic according to preference . All measurements are aprox and UK measures.