Submitted by Christy Roth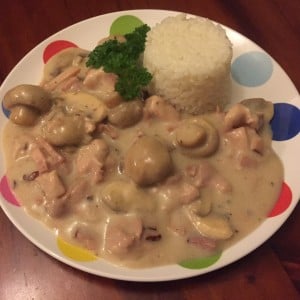 Creamy chicken with mushrooms and bacon
Ingredients
6-8 chicken thighs, diced

6-8 large mushrooms, peeled/wiped clean and sliced

100ml white wine (I used sauvignon blanc)

6 short cut rashers of bacon, diced

1 tin cream of mushroom soup

1 tin whole champignons

100ml sour cream

½ teaspoon salt flakes

4-5 grinds black pepper

1 teaspoon minced garlic

2 heaped teaspoons cornflour

50ml water
Instructions
Put everything except cornflour and water into the slow cooker and mix thoroughly. Cook on high for 2.5 hours.

After this time, in a separate bowl mix the cornflour with enough of the water to dissolve all the cornflour. Take the lid off the slow cooker and stir the cornflour/water mix through, keeping stirring for a couple of minutes until it starts to thicken up.

Put the lid back on and cook for a further 20 minutes. You may wish to add some more cornflour/water mix if you prefer an even thicker texture. Serve with rice or pasta.