Submitted by Kimm Blake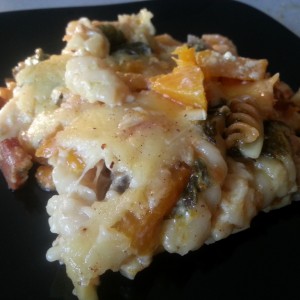 Creamy Chicken Pasta Bake
Ingredients
500g Sliced Chicken Breast

6 Rashes of Bacon Diced

100g Mushroom Sliced

2 whole onions sliced

2 cups Baby Spinach

2 cups Pumpkin Pieces

2 cups Spiral Pasta (or whatever pasta you have)

1 1/2 Cups Grated cheese (leave 1 cup to top later)

600ml Thickened Cream

1/4 cup water

Salt & Pepper to season.
Instructions
1. Slice/dice your chicken, bacon, mushroom, onion, pumpkin and place straight into your Slow cooker along with your spinach, pasta and Half a cup of Grated cheese, all raw.

2. Pour in your 600ml Thickened cream and 1/4 cup of water and mix well.

3. With your desired utensil gently make the top flat so it will form a bake and put the lid on and leave on low temp for 3-4 hours or until you can see your chicken is cooked.

4.take lid off and sprinkle the remaining grated cheese on top and leave lid off for the remaining time or until you are satisfied with the way your cheese is melted. ENJOY!!!

This dish is so incredibly tasty! It's a must try!!