Submitted by Jaime Caillot de Chadbannes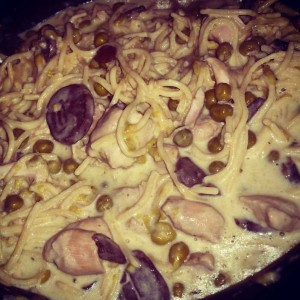 Creamy Chicken & Mushroom Pasta
Ingredients
4 chicken thigh fillets

200g sliced mushrooms

2 cups frozen peas

2 chicken stock cubes dissolved in 1.5 cups of boiling water

2 T chopped fresh coriander

300g sour cream

100 parmesan cheese

200g spaghetti
Instructions
Dice and brown the chicken.

Add stock, chicken and coriander to the slow cooker and cook on low for 3 hours.

Add peas and mushrooms for another hour.

Cook the spaghetti until al dente and set aside.

Add cream and Parmesan cheese and cook for another 10 minutes.

Add pasta and toss through.

Garnish with a little more Parmesan and serve with crusty bread and a fresh green salad.