A twist on an old classic
Submitted by Lysette McNeany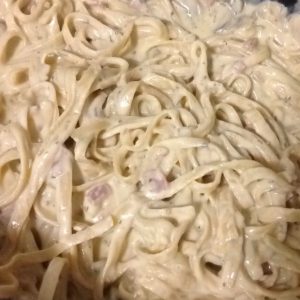 Creamy Carbonara
A twist on an old classic
Ingredients
250g mushrooms (sliced)

400g bacon (diced)

4 cloves of garlic (finely chopped)

2 brown onions (diced)

2 blocks of Philly Cheese (roughly chopped)

2 tins of cream of chicken soup

1/2 cup of water

A good shake of dried parsley

500g of fettuccine

Good handful of shredded Parmesan cheese
Instructions
Brown bacon-add garlic and cook till fragrant

Put bacon, mushrooms, onions & soup into slow cooker. Add the water.

Chop the Philly Cheese and add to slow cooker

Put in a good shake of dried parsley

Stir well to combine

Cook on LOW for 4.5 hours.

Put fettuccine in a heatproof bowl and cover with boiling water.

Continue stirring until all fettuccine is in the water. Cover and leave for 5 minutes, stirring once or twice

Drain fettuccine and add to slow cooker, stir gently to combine.

Cover and cook for a further 15-20 minutes. Stir occasionally to ensure pasta is fully coated in sauce.

Take lid off, add Parmesan cheese, stir through and serve.
Notes
After adding the pasta, you may wish to add a bit of water to make a saucier sauce (don't add too much at once)

You can use any pasta you wish with this recipe

If you do not want to half cook the pasta, just put it on raw and cook for at least 1 hour (I recommend half cooking first though)

I made this in my 5L slow cooker.