A rich & creamy flavoursome chicken and bacon dish.
Submitted by Ramseystreats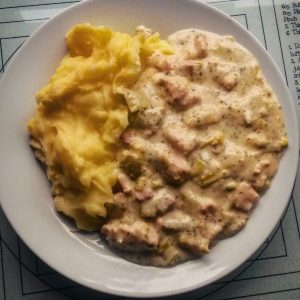 Creamed chicken with leeks & bacon
A rich & creamy flavoursome chicken and bacon dish.
Ingredients
2 tbs Cornflour

450gm chicken (diced 4 chicken breasts)

1 pack of smoked bacon diced up or a pack of smoked bacon lardons.

2 leeks ( i used one large and one medium chopped up.

1 cup of grated mature cheese

1tsp butter ( to stir in at the end)

1 pint of semi skimmed milk

1 tbs mustard powder ( i used colemans)

1 tbs marjoram (dried)

1 tbs parsley ( dried)

1 tbs garlic powder ( can use granules)

1/8 tsp salt

1/2 tsp black pepper

1 cup double cream

40 mls vegetable oil
Instructions
First put the vegetable oil in a frying pan to heat up then add your diced bacon,chicken & leeks fry them all togetger for about 15 mins or till all cooked.

In a bowl add the cornflour with 2 tbs of the milk taken from the pint and mix into a paste.

Add the salt, pepper, marjoram, mustard powder, garlic powder, & parsley then pour in the rest of the pint of milk and whisk together. Then add the cream.

Put the chicken, leeks and bacon into the slowcookeralong with you wet ingreadiants and cook on high for 1 hr 15 minutes.

Add the cheese and stir it in put lid back on and cook for a further 10 minutes.

Add a tsp butter give it a gd stir through then serve with mash or pasta.

Recipe inspired by a packet mix i used to buy a few years ago. Goes lovely with creamed mash and steamed green beans, or goes great with tagliatelle.