Submitted by Alanna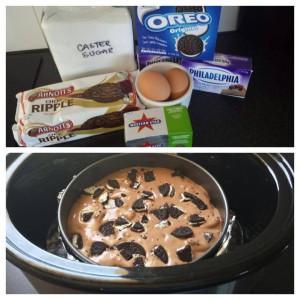 Cookies and cream cheesecake
Ingredients
*250g packet Arnott's Choc Ripple biscuits, halved

* 125g butter, melted

* 2 x 250g packets chocolate cream cheese, softened

* 2/3 cup caster sugar

* 3 eggs

* 150g cream-filled chocolate biscuits, roughly chopped
Instructions
* Set sc to high. Wrap to outside sides and base of a 20cm springform pan in foil. Process biscuits until mixture resembles fine breadcrumbs. Add butter and mix well. Press mixture over base of pan. Refrigerate.

* Meanwhile, make filling: Beat cream cheese and sugar until smooth. Add eggs, 1 at a time, beating until combined. Fold in roughly chopped oreos and pour over biscuit base.

* Place pan into sc, with a jar lid underneath to raise it off the base of sc. Pour 1 inch of boiling into sc. Cook with lid on with tea towel underneath, for 2hrs. Once cooked, cool completely in fridge.