Submitted by Nicky Rothenberger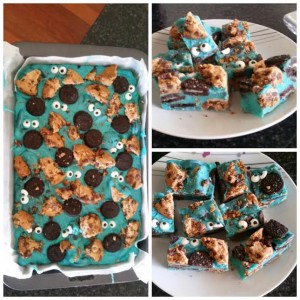 Cookie Monster Fudge
Ingredients
1 x 340g bag wilton blue candy melts

1/2 cup white chocolate

1 can sweetened condensed milk

Few drops of blue food colour

1 cup mini oreos (save some for topping)

1 cup broken up choc chip cookies (save some for topping)

Sugar eyes for decoration
Instructions
Put everything in slow cooker (except cookies and eyes)

Cook on low with lid off for approx 45 min stirring every 10-15 min (5.5L slow cooker)

Mix cookies into fudge during last 5 mins of cooking time

Poor into 28x19cm tray and top with more cookies and eyes!

Set in fridge for 3-4 hours

White chocolate can over cook easily so ensure you stir your fudge every 10-15 minutes. Your fudge is ready when it gets a bit crusty like on top.