You had me at "cookie dough" … yummmmmmy!
Submitted by Katie Partlin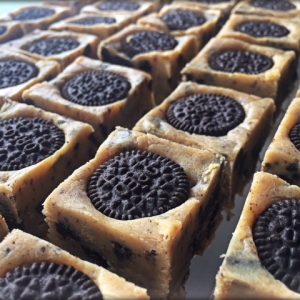 Cookie Dough Fudge
You had me at "cookie dough" ... yummmmmmy!
Ingredients
600g White Chocolate Melts

1 x Can Condenced Milk

1 x 230g box Mini Oreos (10 Mini Bags)

1 Tbsp Vanilla Bean Paste

1 x 100g Bag White Mini Marshmallows
Instructions
Place Chocolate, Condensed Milk and Vanilla Bean Paste in slow cooker and cook on high for approximately 1 hour, stirring every 10-15 minutes.

While it's cooking, place 7 bags worth of the Mini Oreos in a zip lock bag and crush roughly using a rolling pin.

Open the remaining 3 bags of Mini Oreos and separate them. Use a knife to gently remove the cream.

Stir in the Mini Marshmallows and cook for another 20-30 minutes, stirring frequently.

Allow the fudge mix to cool slightly and stir through the crushed Mini Oreos. Once the Mini Oreos are well combined, pour into a lined slice tray immediately.

Smooth out the top with a spatula and press the separated Mini Oreos into the top.

Refrigerate for several hours or until set.
Notes
This recipe does not actually contain any cookie dough, it just looks and taste like cookie do (in my opinion).

Allow the fudge to go a little crusty on the sides and then stir back through. This will enhance the "cookie dough" colour.