Submitted by Kerry Miskelly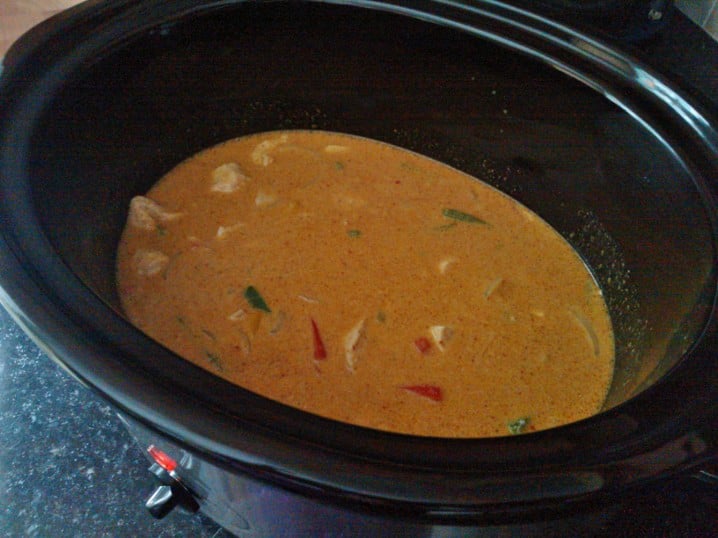 Coconut Chicken Curry
Ingredients
500g chicken breast

Oil as needed

medium onion finely sliced

1 red and 1 yellow pepper sliced ( you can add green or use any variation you like)

3 dessert spoons of yellow curry paste

A small mug of chicken stock

1/4 tsp salt

1 tsp sugar

2 heaped tsps of mild curry powder

2 tsp of light soy sauce

2 tsp of dark soy sauce

2 cloves of garlic minced

1 tin of coconut milk

2 tsps of cornflour mixed with water
Instructions
Cut chicken in strips or chunks and fry off in a bit of oil before putting in the slow cooker.

Add the onion and peppers to the frying pan and cook till soft on a medium-low heat.

Whilst the onion and peppers are frying, make up the curry sauce by putting the curry paste in a large bowl and adding 3 dessert spoons of the chicken stock to the paste. When blended, add the remaining stock and mix, then add the salt, sugar, curry powder, soy sauce, one of the garlic cloves and the coconut milk; whisk till smooth.

Add the other garlic clove to the onion and peppers and fry off for a minute, then add the curry mixture to the pan and bring to the boil.

Pour over the sauce mixture over the chicken.

Cook on low for 4-5 hrs.

With 30 minutes left to cook, add some cornflour mixed as per packet instructions and stir well to thicken the sauce.