Submitted by Lynda Harding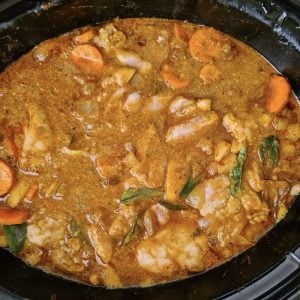 Coconut Chicken Curry
This recipe can be adjusted to taste, but the flavour is really enhanced if you fry your spices first.
Ingredients
8 chicken thigh fillets

2 large carrots

6 small potatoes (cut into small chunks)

2 large onions (diced)

4 cloves of garlic (finely chopped)

2 tsp ginger (from jar)

2 tbl spoons tomato puree

1 tbl spoon dark brown sugar

About 24 curry leaves optional

2 Kaffir lime leaves optional

2 heaped dessert spoons mild curry powder

2 heaped dessert spoons hot curry powder

(I found the combination makes a medium heat with all the flavour)

400ml can coconut cream

Half a litre water with 2 dessert spoons Vegeta.

4 tbl spoons coconut oil.
Instructions
Use the coconut oil to fry onions till soft.

Add garlic, ginger, curry leaves, curry powder, tomato paste and brown sugar and cook for about 2 minutes.

Add vegeta stock to prevent mixture sticking.

Place chicken and veggies into slowcooker.

Pour cooked sauce into slow cooker

Add coconut cream and mix together.

Crush the kaffir lime leaves in your hand and add to slow cooker.

Cook on low for 6 hours.

Add extra chilli if you like it more spicy