Submitted by Jayne Barnes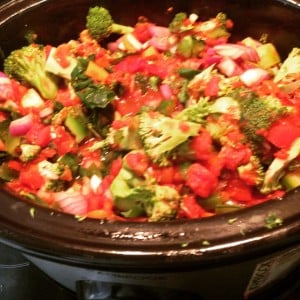 Clean Pasta Sauce
Ingredients
2 Zucchini

6 Vine ripened tomatoes (the riper the better)

1 Green and 1 red capsicum

1 cup Mushrooms

2 cloves Garlic

2 small or 1 big Spanish onion

2 Carrots

2 Broccoli bunches

3 bunches Bok choy

1 cup baby spinach

2 tins of diced tomatoes

Italian herbs to taste

500ml vege stock

Black pepper to taste

Himalayan Pink salt to taste
Instructions
Slow cook on low for 3-4hours and then blend to sauce consistency and add to your cooked mince

Season to taste

Refrigerated well it lasts for upto a week and freezes well too.

Loaded with Veges and sooooooo delicious!

I also mix spoonfuls into my fussy mr 4's dinners so he gets Veges secretly

I add it to my homemade sausage rolls too!