Submitted by Monika McCann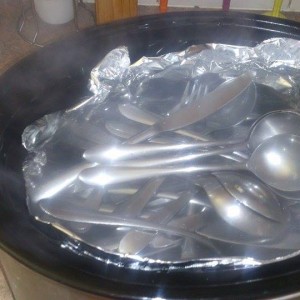 Clean Cutlery
Ingredients
Alfoil

1/2 cup baking soda

1/2 cup vinegar

Boiling water

Cutlery
Instructions
Line slow cooker with alfoil.

Insert cutlery.

Add vinegar and baking soda.

Fill with boiling water until all cutlery is covered.

Cover with lid and let it sit on high for approximately one hour on high.

After time is over fish cutlery out with a pair of tongs (careful, hot!), piece by piece, and rub dry and clean with a dishtowel or rag.