Submitted by Lindsey Schofield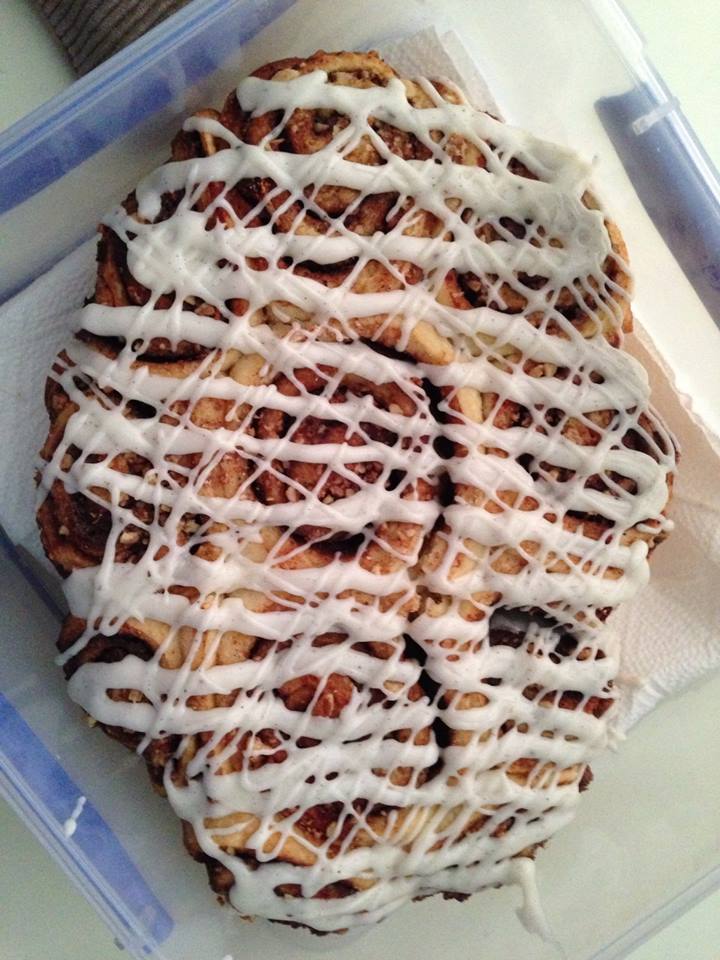 Cinnamon Pecan/Apple Scrolls
Ingredients
Dough
2 ¾ cups plain flour

3 tablespoons Raw Caster sugar

1 teaspoon salt

1 packet yeast (2 teaspoons)

½ cup water

80 mills Thin Cream

40 grams butter

1 large egg
Filling
2 cups Brown Sugar

2 tablespoon Cinnamon

65 grams soft butter

1 teaspoon Nutmeg

Mix these all the above together so it's a soft consistency

½ cup Apple Puree

80 grams Pecans (crumbled – I used a stick mixer to achieve this)
Icing
1 ½ cups Icing Sugar

1 teaspoon Vanilla Extract/Paste

2 tablespoons Milk

Pinch of Cinnamon
Instructions
In a bowl add all dry ingredients and combine

Melt butter, water & cream in microwave (about 1 min). Stir this into dry mixture; with the egg add a little extra flour only if required to make a soft but not sticky dough. On a lightly floured surface, knead the dough for about 3 mins to smooth the dough texture, and set aside for 10 mins.

Then roll out the dough into a thin rectangle and spread the brown sugar mix over the whole rolled out dough then thinly spread the pureed apple over this and top with crushed Pecans keep a little to sprinkle over top then roll fairly firmly into a log and then cut evenly (about 10-12 pieces)

Line slow cooker with baking paper and arrange scrolls snugly but not crammed tightly in place sprinkle with a little more cinnamon and pecans or you can keep the pecan to sprinkle over icing your choice, put a tea towel under lid and put on low for 40 mins to rise then set on high for 40 mins to cook!

When slightly cool mix all icing ingredients together and drizzle over scrolls sprinkle with reserved Pecans if you want. Beautiful served warm by themselves or with cream or custard or both.