Slow cooked fruit preserve 🙂
Submitted by Deanna Rankin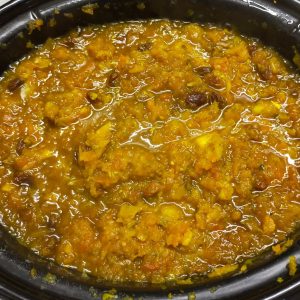 Chutney - Tomato & Fruit
Slow cooked fruit preserve 🙂
Ingredients
400 ml Malt Vinegar

3 teaspoons Mustard Powder

3 teaspoons Curry Powder

1 1/2 teaspoon Chilli Flakes (optional)

2 cups Sugar

1 kg Tomatoes

3 lg Onions

4 cloves Garlic

3 sticks Celery

3/4 cup Sultanas

2 Cooking Apples (peeled)
Instructions
Score the tomato skins & place in boiling water for about 5-10 minutes & peel skin off & chop the core out.

Chop Onions, Garlic, Celery & Tomatoes fine (or place in food processor/chopper & blitz).

Place all ingredients in the slow cooker & stir & cook on high for about 6-7 hours.

If needs thickening use cornflour, if not wanting to use flour take the lid off & cook until desired thickness.

Spoon into clean jars & place lids on. Tip the jars upside down for about 5 minutes to seal the lids.

Will last for a long time or make great gifts.