Traditional cloth wrapped Christmas Pud!
Submitted by Lis Scott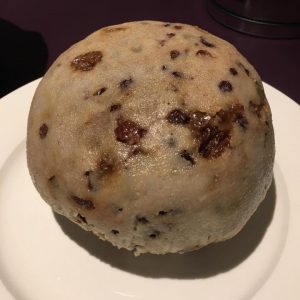 Christmas Plum Pudding
Traditional cloth wrapped Christmas Pud!
Ingredients
1 cup Raisins

1 cup currants

2 cups plain flour

1/2 cup sugar

1 tsp mixed spice

2 tblsp butter

1 tsp bi carb

1 1/2 cups boiling water
Instructions
Mix fruit, flour, sugar and spice.

In a separate bowl combine butter, bi carb and boiling water, add to fruit mix, mix well.

Let stand overnight.

Turn into a basin or floured cloth to cook. If using a cloth, pat more flour on the outside before placing in the water.

Add warm water to 5.5 slow cooker to warm it up prior to adding boiling water in next step (this protects it from cracking if you were to add boiling water straight into a cold ceramic cooking bowl). Tip out this warming water then 3/4 fill with boiling water and cook pudding on high for minimum of 3 hours.

Eat straight away, or let hang a few weeks and re heat.

Make sure the cloth dries out if hanging.