Submitted by Monica Dalglish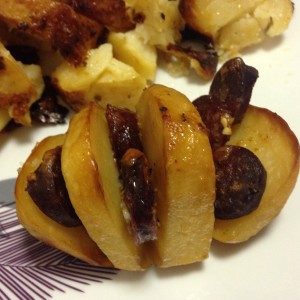 Chorizo Hassleback Potatoes
Ingredients
1-7 potatoes (depends on how many people)

1-2 chorizos

Garlic steak seasoning (Masterfoods)

Garlic butter

Cheese (as per liking)
Instructions
1. Peel the potatoes and cut slices evenly across the potatoes. Don't cut all the way through.

2. Slice chorizo and place inside the cuts of potatoes.

3. Spread garlic butter into the cuts.

4. Sprinkle garlic steak seasoning over all the potatoes.

5. Sprinkle hand fills of cheese over each potato.

6. Cook on high between an hour to an hour and a half.

7. Switch to low for the next hour and a half to two hours.

8. Use tongs or a flip to get the potatoes out and serve. Serve as is or have it on the side of another meal.