Submitted by Louise Finch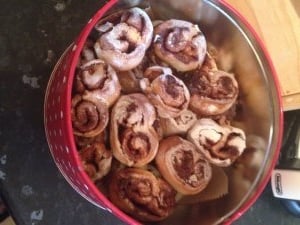 Chocolate Orange scrolls
Ingredients
2 cups self raising flour

1 cup Greek yoghurt

1/2 cup caster sugar

Chocolate spread

Zest of one orange

Icing sugar
Instructions
Mix the 2 cups self raising flour, 1 cup Greek yoghurt and 1/2 cup caster sugar

roll out thinly

Spread with chocolate spread (I used milk and white chocolate spread from Tesco)

Grate zest of orange over it.

Roll both edges to centre, lay scrolls on baking paper and sprinkle over icing sugar.

Sc with tea towel for 90mins or more; depends on how hot your sc is.