Submitted by Amelia Cocks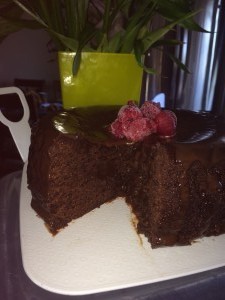 Chocolate Mud Slide
Ingredients
Ingredients-

200g block milk cooking choc

200g block dark cooking choc

250g butter

600ml water

3.5 cups SR. Flour

3 cups castor sugar

4 eggs

2 TBS cocoa (optional)
Instructions
Method-

Melt butter, choc and water in a pot over water or in microwave. Set aside to cool to room temp.

Mix in a bowl flour, sugar and cocoa.

Beat eggs with a fork.

Whisk eggs in to cooled choc mix. Don't over beat.

Mix wet ingredients in to dry. Mixture will be quite runny.

Pour in to cake tin. I used a 25cm spring form and also got 8 cupcakes.

Cook on high for around 2-3 hours until a skewer inserted comes out clean. Keep checking after 2 hours.

I sat it in my 6lt cooker on a pie case with a little water in the bottom and tea towel under lid. Don't let cake tin sit in the water though.

Cover with Ganache-

150g choc

300ml cream

Bring cream to boil in saucepan. Pour over chocolate. Let cool slightly and pour over cake starting from the Middle.