Submitted by rachael drewett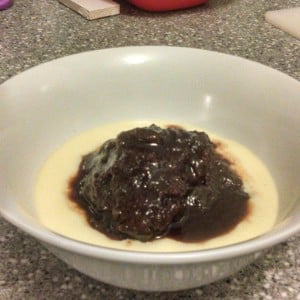 Chocolate dumplings with caramel sauce
Ingredients
Caramel sauce:

1 Tbsp butter

1 cup Brown sugar

1 1/2 cups boiling water

Chocolate dumplings:

2 Tbsp butter

3 Tbsp sugar

1 egg

3/4 cup SR Flour (or plain flour with with 1 tsp of baking powder)

2 heaped Tbsp cocoa powder

2-3 Tbsp milk
Instructions
Caramel sauce:

Place all ingredients in slow cooker on high for 30 mins

Dumplings:

Cream butter and sugar. Add a egg and stir. Mix in dry ingredients. Add milk.

With moist hands or spoons place balls of mixture in caramel sauce in slow cooker. Place towel under slow cooker lid and cook on high for 40 mins.

Serve with custard, cream or ice cream and enjoy!