Quick and easy to make and is perfect for the lunchboxes
Submitted by: Sam Roome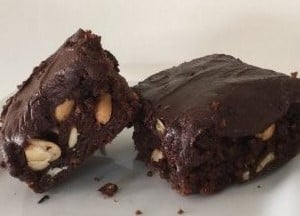 Chocolate Cereal Nut Slice
Quick and easy to make and is perfect for the lunchboxes
Ingredients
3 Weetbix, crushed

1 cup Rice Bubbles

1 cup Flour

1 teaspoon Baking Powder

3/4 cups Caster Sugar

1/4 cup Cocoa

1 cup Mixed Fruit, Nuts and Seeds (Any variety is acceptable)

1/2 cup Chocloate Chips

180 g Melted Butter

1 teaspoon Vanilla Essence
Instructions
Combine dry ingredients together in a bowl.

Pour in butter and vanilla essence, mix well.

Grease and line the slow cooker insert with baking paper.

Lightly press mixture into slow cooker insert.

Cook on high for 2 hours. Check every 1/2 hour.

Allow to cool and then ice with chocolate icing.

Cut into squares and store in an air-tight container.