Submitted by Simon Christie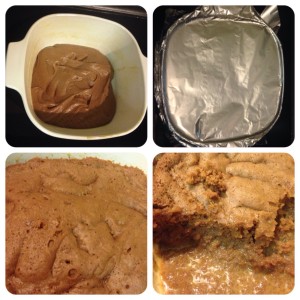 Choc-Caramel Self Saucing Cake
Ingredients
CAKE

1 and a 1/2 cups self raising flour

1/2 cup brown sugar

1/2 cup sweetened condensed milk

1/4 cup milk

100 grams softened butter

3 tablespoons cocoa

1 tablespoon vanilla essence

1 teaspoon salt

SAUCE

2 cups boiling water

3/4 cup brown sugar

3/4 cup sweetened condensed milk

Combined sweetened condensed milk for entire recipe is one full tin 🙂
Instructions
CAKE

Mix all cake ingredients together well with wooden spoon removing all lumps.

Pour/scrape into a standard casserole dish.

SAUCE

In a separate bowl combine sauce ingredients until all dissolved.

*** *** ***

Gently pour sauce over cake mix in your casserole dish.

Cover casserole dish with aluminum foil pressing around edges to seal. (You can use your casserole lid if cooker height permits)

Place dish directly into slow cooker insert and put lid on.

Turn slow cooker on HIGH for two hours or until ready.

You can check your dessert by peeling back foil and inserting a wooden skewer. If it comes out clean your cake is ready.

*Note

Check your slow cooker manual regarding dry cooking.

If you have a ceramic insert you can cover the base with water.

Serve alone or with ice cream.