Little clusters of chocolate awesomeness ?
Submitted by Simon Christie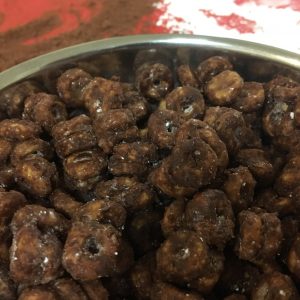 Choc Caramel Movie Snax
Little clusters of chocolate awesomeness ?
Ingredients
5 cups (low sugar) Cheerios cereal

5 fun sized Milky Way bars

1 1/4 cups sweetened condensed milk

3/4 cup icing sugar

1/3 cup butter

1 1/2 Tablespoons cocoa
Instructions
Put cereal in a large bowl

Pour condensed milk into a small slow cooker

Turn cooker on HIGH for around 45 minutes stirring occasionally

Add Milky Way bars

Add butter

Turn cooker to LOW and melt together for approximately 15 minutes

Pour melted mixture over cereal and combine to coat fully

In a plastic bag put combined cereal plus icing sugar and cocoa.

Twist top of bag and shake to coat

Empty contents after satisfied with even coating onto a baking tray lined with baking paper

Allow to cool and set

Store in airtight containers
Notes
Break up final product or leave in surprise clumps ?