Submitted by Stacey Swords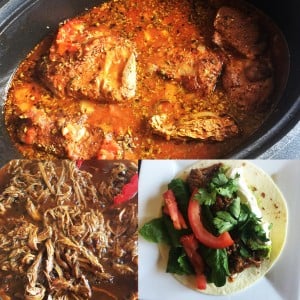 Chipotle Mexican pulled beef
Ingredients
SPICE MIX
2 Tbs paprika (smoked would be best)

1 Tbs dried oregano

1 Tsp All Spice

1 Tsp coriander

1 Tsp Cumin

1 Tsp onion powder

1 Tsp garlic powder

1 Tsp salt

Pepper
THE REST!
1.8 kg piece of blade steak (or chuck or brisket) cut into 4 chunks

1 large onion diced

5 garlic cloves chopped

Juice from 2 oranges

Juice from 1 lime

1 tin of chopped tomatoes

2 cups of beef stock

1 dried chipotle chili

Olive oil for browning meat.
Instructions
Mix the spice mix together and rub half of it over the 4 chunks of meat.

Brown meat in pan or slow cooker insert if you can. I did 2 at a time. Remove & repeat with remaining meat.

Add more oil & quickly brown the onion & garlic. Put the meat back in & cover with the rest of the spice mix & all other ingredients. Meat should almost be covered.

Add the dried chipotle chili whole so it can be removed later.

cook it on high for 4 hours then low for 2 hours remove the beef & reduce the sauce to thicken it. Shred the beef using 2 forks & add the thickened sauce & enjoy in any way Mexican that takes your fancy!!! ?????

I used my large slow cooker that has the insert which you can brown meat on the stove. (Sorry I don't know the exact size!)

You can use this Mexican beef for anything! We have it as soft tacos.

You don't have to reduce the sauce if you don't have time, it will still taste amazing!