Submitted by Carol Wilkinson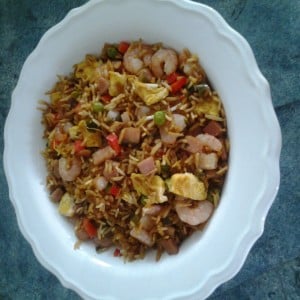 ~~Chinese inspired fried rice~~
Ingredients
2 cups Jasmine Rice (RAW)

3 tblsp olive oil

1 small red onion diced

1/2 cup of shallots diced

1/4 red capsicum diced

1/4 green capsicum diced

250 grams diced bacon (pork & chicken as well if you want combination)

300 grams small prawns (l buy mine from IGA freezer section)

1 cup of frozen peas

2 - 3/4 cups of chicken stock

4 eggs lightly whisked (cook the egg in fry pan like omelette thin dice)

1 teas minced ginger

2 teas minced garlic

1 teas fish sauce

2 teas sesame oil

3 tblsp soy sauce

1 tblsp oyster sauce

1 tblsp hoisin sauce

1 tin bean sprouts (optional)
Instructions
In a large fry pan dry fry the RAW rice with the 3 tblsp of olive oil & cook for about 5/7 mins until brown.

Then stir through the onion,bacon (pork & chicken if combination) capsicum,peas,egg.cook for 2 mins,then put prawns in and cook for 1 min.

Take off heat.

ln a large jug add the stock & all the sauces,garlic,ginger & sesame oil.Mix and stir through the rice.

Transfer to slow cooker & stir through the bean sprouts (if using) cook on High for approx 2 1/2---3 hrs.

Stir occasionally & add extra water if needed.

When ready to serve i stir through 1 teas extra of sesame oil.
Notes
I cook this in my 5 litre sunbeam sear & cook,but you can cook in any slow cooker.It is ready when the rice is tender.I just keep more water by the slow cooker & keep stirring through until it gets tender.This makes a BIG amount.But if you are lucky enough to have any left over it freezers well.

I created this Fried rice,because we love the Chinese inspired flavours. It is always asked for from my Family & Friends when we have get togethers. l hope you enjoy it just as much as we all do...