Submitted by Sherie Sutcliffe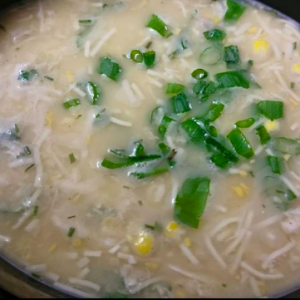 Chinese Chicken & Corn Soup
Ingredients
3 cups cooked, shredded chicken (I used a pre-made chook)

1 litre chicken stock

1 clove garlic

1 Tablespoon soy sauce

2 packets Chinese chicken n corn cuppa soup

1 large tin creamed corn

1 cup shallots

1-2 Tablespoons cornflour, if needed
Instructions
Combine all ingredients, except shallots and cornflour, in slow cooker and begin cooking.

Cook on high for 1 ¼ -1 ½ hours

Toward the end, add the shallots.

If soup is runnier than you want, combine a cornflour with some of the chicken stock and then add it back into the soup as you stir the broth. This will thicken your soup.