Submitted by Brett "Tyga" Danvers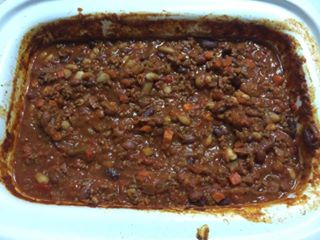 Chilli
Ingredients
1kg beef mince

3 small brown onion, peeled and diced

1 bag mixed veg diced ( I buy from coles fresh and pre diced)

1 green capsicum, diced

1 red capsicum diced

2 cloves garlic, crushed

small tub of tomato paste (150g)

2 T sugar

4 squares Lindt 85% dark bitter chocolate

1 (700g) jar tomato pasta passata

2 (400g) cans kidney beans, drained

2 (400g) cans cannellini beans, drained

150g of my Mexican spice blend ( recipe below)

ground black pepper to taste

with onions, capsicums, garlic I rough chop and blitz in food processor as im too lazy to chop lol
Tyga's Hot Mexican Seasoning
¼ cup chili powder

¼ cup paprika regular or half smoked half normal.

3 T cumin

2 T onion powder

2 T dried oregano

1 t salt

2 t cracked black pepper

2 t garlic powder

1 t cayenne pepper

1 t chili flakes

Place in a jar shake and store for upt to 3 months.

Use 50g of mix per 500g mince for tacos or sprinkle on chicken or steak and cook
Instructions
Cook mince in a large frying pan over high heat, stirring, until browned, add spice mix cook 2mins. Place the mince in a slow cooker

fry off all veg for 5 mins add to slow cooker.

Add all other ingredients stir and cook on low 6-7 hrs

serve on rice with sour cream and cheese...