Submitted by Denise Roberts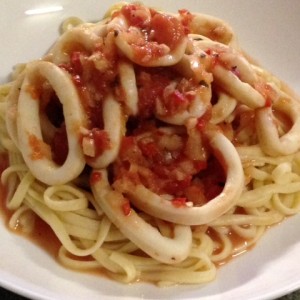 Chilli Squid
Ingredients
200g Squid Rings

1/2 Chilli (finely diced)

1 TBL Garlic (paste)

1/4 Onion (finely diced)

1 TBL Lemon Juice

4 TBL Diced Tomatoes (Canned)

Salt & Pepper

1 tsp Basil or Oregano (Optional)
Instructions
Combine chilli, onion, lemon, garlic, S&P, basil and tomatoes in a small bowl.

Place squid in slow cooker and pour sauce over the top. Combine.

Slow cook on high for 45 mins. (Stir once for an even cook)

(Times may vary as my Adesso 1.5L cooks at a higher heat)

Note: Squid was defrosted when placed into the slow cooker.