Fast and easy slow cooker soup!
Submitted by Janet Hitchcock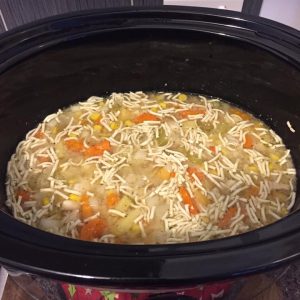 Chicken And Veggie Noodle Soup
Fast and easy slow cooker soup!
Ingredients
4 Cups of chicken stock

2 Chicken breasts diced

2 Cups of frozen corn

1 Onion cut up

2 Celery sticks diced

2 Carrots diced

1 Potato diced

1 Turnip diced

1 Swede diced

2 Sachets of Continental Chicken with lots of noodles soup

Teaspoon of garlic granules

Salt and pepper
Instructions
Cut/dice the chicken, Cut/dice the vegetables, Add the corn, Chuck them all in the slow cooker and add the 4 cups of chicken stock.

Add the garlic granules with salt and pepper.

Cook on low for 6 hours or until vegetables are soft.

Add the Noodle soup packs 30 minutes before serving.