Submitted by KellyRyan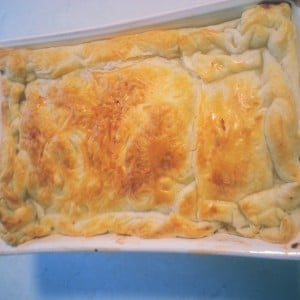 Chicken and Vegetable Pie
Ingredients
3 celery stalks, finely diced

2 carrots, finely diced

1 leek, sliced

4 chicken breasts, cut into 1.5cm cubes

1 tin of condensed cream of mushroom soup

1 chicken stock cube

dried herbs of choice (Thyme works well)

1 tbsp. cornflour to thicken

3 sheets puff pastry

egg white
Instructions
Place all vegetables and chicken in the slow cooker

Cover with soup, crumble in the stock cube for extra flavour and gently stir together keeping the chicken covered with soup.

Cook on high for 2.5 hours then low for a further 30mins.

In a mug, make a paste with 1 tbsp of cornflour and pan juices then stir in, along with your dried herbs.

Continue to cook on low for another 30 minutes uncovered.

Lightly grease and flour a baking pie dish. Line with puff pastry.

Fill with chicken mix and cover with more puff, pinch together to seal it all together making a big pie pouch. Poke a couple of holes in the top and brush over some egg white (or use your fingers if u don't have a brush).

Cook for about 25 mins in 180*c oven or just keep an eye on it until the puff is brown and crispy.