Submitted by Frankie Raines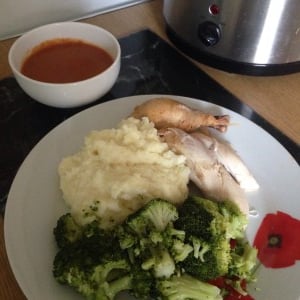 Chicken & Vegetable Hot Pot
Ingredients
1 Whole Chicken

1 Tin Chopped Tomatoes

1 Tin Chunky Vegetable Soup

2 Celery Sticks sliced

4 Shallots sliced

1 Large Sweet Potato cut in to small chunks

2 heaped tbs cornflour
Instructions
Place all ingredients, except the chicken, in to the slow cooker and mix well. (You can use whatever veg you like)

Place the whole chicken on top.

Cook on low for 6 hours.

Remove chicken and place on a plate, cover with tin foil.

Stir through the sauce to check there are no bones.

Put cornflour in a mug and use some of the sauce from the slow cooker to make a gloupy mixture. Add this to the slow cooker and stir until sauce thickens.

I chose to blend my sauce to hide the veggies, but that is optional.

Serve with broccoli and mashed potatoes.