Lush chicken pot pies!
Submitted by Erin Fisher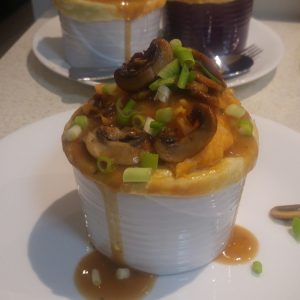 Chicken Pot Pies
Lush chicken pot pies!
Ingredients
Filling-
1.5kg Chicken Thighs

1 tin Condensed chicken and corn soup

2 cups chicken stock

Mixed veggies (i used onion, carrots, peas)

125gms of philly cream cheese
Topping Pies-
Puff pastry

Egg wash

Sesame seeds
To serve-
Mashed sweet potato

Crispy mushrooms

Spring onions

Chicken gravy
Instructions
Add chicken, soup, stock and mixed veggies to slow cooker and cook on low for 6 hours. Softer veggies can be added towards the end of cooking time

When done- stir in cream cheese and break up the chicken a little with the spoon. Divide mixture into ramikens with as much of the cooking sauce as you like. Top with puff pastry, egg wash and sesame seeds. Bake in hot oven until golden and crunchy (approx 20-30min)

Garnish with your choice of sides- i served mine with mash, crispy mushrooms, spring onions and chicken gravy.