Submitted by Kathy Flatman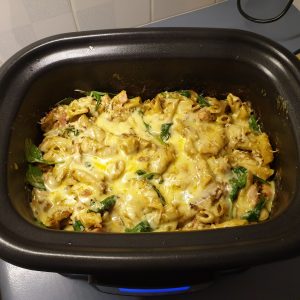 Chicken Pesto Penne
When the picture says it all!
Ingredients
350g penne pasta

500g chicken fillet thighs diced

5 lg shallots sliced

4 slices short cut bacon finely diced

1 tsp minced garlic

300ml cooking cream

1 tin cream of chicken soup

190g jar basil pesto

1/2 cup sundried tomatoes sliced, reserve oil

1 cup baby spinach leaves

1 cup grated cheese

1/2 cup grated parmesan cheese
Instructions
Brown chicken, garlic, bacon and shallots in reserved oil, in a pan if your slow cooker doesn't have a sear function

Add all ingredients except pasta, spinach and cheeses. Combine well.

Cook on low for 2 hrs

Mean while boil pasta until just beginning to soften, drain and let cool.

Add pasta to slow cooker, stir through.

Place tea towel under the lid

Cook on low for approximately 2 hrs or until pasta has expanded and sauce has thickened.

Stir in baby spinach leaves.

Layer with cheeses.

Cook on low until cheese has melted.