Submitted by Lisa Watt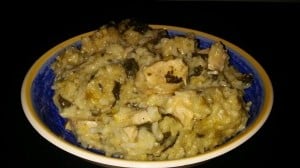 Chicken & mushroom risotto
Ingredients
1 leek

2 chicken filles

I packet fresh spinach

10 fresh mushrooms

1/2 cup white wine

4 cups warm chicken stock

2 cups aborio rice

Pepper to taste

1/4 cup parmesan cheese

1/2 cup light cream
Instructions
Saut leek, mushrooms and chicken for 5 mins until browned then add to in slow cooker... on high

add rice leave another 5 mins ...

add wine allow another 5 mins to dry up and cook out alcohol. ..

add pepper, spinach, stock, and cream give it a stir.

Allow to cook for 20 mins. Then stand or keep warm for another 5.

Add parmesan cheese stir through allow another 5 mins to stand and serve up. Yum yum.