Completely adaptable recipe!
Don't be afraid to improvise! Cook it to your taste.
Submitted by Jay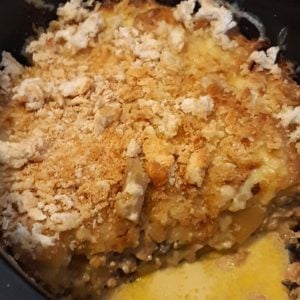 Chicken & Mushroom Potato Bake
Completely adaptable recipe! Don't be afraid to improvise! Cook it to your taste.
Ingredients
1tsp butter.

1 onion, sliced.

2-3 cloves garlic, crushed & diced finely.

6-8 medium white potatoes, sliced thin (2-5mm thickness).

1 or 2 Skinless chicken breast, sliced bite sized.

2-3 brown flat mushrooms, sliced to your liking.

300ml cream.

1/3 cup milk.

Salt & pepper to taste.

Chicken salt (optional).

1-2 cup grated cheese (to your preference).

1/2 cup toasted breadcrumbs.
Instructions
In pan with butter, brown the chicken.

Layer potato to cover the bottom of the slow cooker. (No oil or butter needed.) Salt and Pepper each layer of potato. I even added a little chicken salt to each layer.

Sprinkle onion, garlic, mushroom & chicken on top, then layer more potato. Repeat steps until all ingredients used. Make sure final layer is potato. (You should get at least two layers with this amount of ingredients).

Pour milk & cream all over. This likely wont reach the top layer but it will expand as it cooks. Don't worry if it looks as if it's curdling!

If it starts to bubble too high or you get worried open the lid for a small amount of time to allow for the bubbles to deflate again).

Cook on high for 4 hours, no tea towel needed at this stage.

At 4 hours mark: Cover the top with cheese, place tea towel under lid and cook for a further 20mins on high.
Notes
IF your slow cooker bowl is oven proof you could preheat oven to Grill 180°C, remove crockpot from slow cooker and place in oven under grill, add breadcrumbs in an even layer on top and grill for a final 5 minutes. IT'S VERY IMPORTANT TO ONLY DO THIS IF YOUR MANUAL SAYS IT'S SAFE TO DO SO AS MANY SLOW COOKERS ARE NOT OVEN PROOF. IF unsure do not do this.

3.5L friendly!

Optional extra: add bacon and maybe some herbs or spices of your choice.