Submitted by Nikki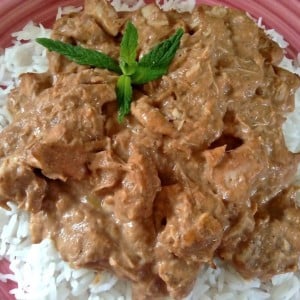 Chicken Korma
Ingredients
2 medium onion

4 cloves garlic

1 inch piece fresh ginger

1 tsp oil

1tsp salt

1tsp paprika

2tbsp ground almonds

1Tbsp garam masala

1tsp red curry paste (optional)

3tbsp tomato paste

1 cup chicken or vege stock

1.5kg Chicken - I used boneless thighs

2/3 cup yoghurt

2 rounded Tbsp cornflour
Instructions
Finely dice onions, crush garlic, mince ginger. Put this with a little oil into a frying pan on low heat and cook until onions translucent, approx 5 minutes

Add salt, paprika, ground almonds, Garam Masala, red curry paste (optional). Cook for 2 minutes.

Add tomato paste and stock, cook 2 minutes.

Place korma mix into slow cooker and add in chicken that has been diced into approx 1 inch cubes.

Mix cornflour and yoghurt and add in for last 20 minutes, turn cooker off when you do this.

I cooked this on high for 1st hour and then turned to low for 3hrs. It could all be done on low for 5-6 hrs.

This can also be done with lamb, beef or vegetables. The

beef version

I did 1st hr on high and then 4 hrs on low.