Submitted by Lynda Eagleson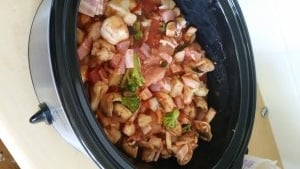 Chicken Fettuccini
Ingredients
800g diced chicken breast/thigh

1 onion chopped

3cups chopped mushrooms

3 cloves garlic

400g tin diced tomatoes

3 tbls tomato paste

200g chopped bacon

200g broc/cauli

1 c chick stock

1 1/2 c water

1/2 - 3/4 c cream added towards end

Fettucine either precooked and added at end or put in an hour before cooked if enough liquid.
Instructions
Add all ingredients except cream and pasta

Cook on low 4-5 hours

After 4 hours add fettuccine,

When cooked,stir through the cream.

Add salt and pepper to taste.