Submitted by Kim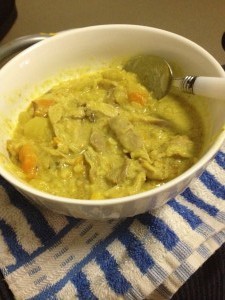 Chicken curry
Ingredients
3-4 chicken thighs

2 potatoes, cubed

Half a sweet potato, cubed

1 brown onion, roughly chopped

1 cup stock (I used vegetable)

1-2 tablespoons curry powder

400ml coconut milk

Salt and pepper

Rice
Instructions
Add all ingredients except rice.

Cook on high for 4 hrs or on low for 6-8 hrs.

I put chicken thighs in whole, after 3hrs, take chicken out an take off the bone (it will fall off easily), return to slow cooker and add rice (I used about 1/4 cup) cook for a further hour stirring twice.

Enjoy!! Very filling.