Submitted by Alysa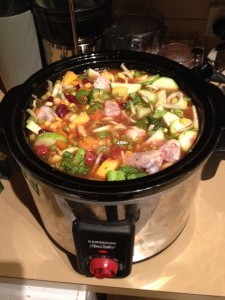 Chicken and Vegetable Soup
Ingredients
1kg chicken drum sticks

1 can chick peas

1 can red kidney beans

2 sticks celery

2-3 carrots

3 potatoes

Chunk of pumpkin

1 parsnip

1 zucchini

1 capscicum

Bunch or fresh or 2 cups frozen beans

Cup of frozen corn

Cup frozen peas

2 cups cut up broccoli

2 cups cut up cauliflower

Salt/pepper

Garlic to suit your taste

Chilli to suit your taste

4 chicken stock cubes mixed in with sufficient water to cover all ingredients.

Risoni - add an hour before serving

Parsley chopped up, stir through 15 minutes before serving
Instructions
Put all vegetable ingredients chopped up into bite size pieces into the slow cooker with the chicken drum sticks, garlic, salt, pepper, chilli.

Put in the chicken stock with water.

Cover and cook for 8-10 hours on LOW or 4-6 on HIGH

Add risoni 1 hour before serving

15 minutes before serving remove flesh from drumsticks discarding bones

Add parsely

Add extra chicken stock if needed.

Serve chunky or slightly blend before serving if wanted.