Submitted by Charlene Masters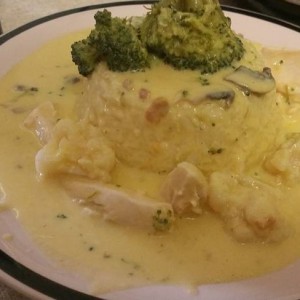 Cheesy Chicken
Ingredients
1kg chicken breast/theigh

4 TBSP Butter (melted )

2 tins Cream of chicken soup

250g Kraft Cream cheese (jar in isle)

1/2 cup milk

100g brocolli

100g calliflour

80g butter mushrooms (sliced)

Salt and pepper to taste

Optional:

100g sliced carrot

100g mixed peas/corn
Instructions
1. Slice/dice chicken into bite size chunks, place in slow cooker

2. In a bowl mix melted butter, soup, milk and cream cheese. Mix until all mixed together

3. Pour over diced chicken in slow cooker, give it a stir though.

4. Cook on low for 4-5 hours, stirring once during cooking time.

5. 1 hour before finished add in all the veggies, add salt and pepper to taste.

6. Serve over rice and enjoy.