Submitted by Robyn Clark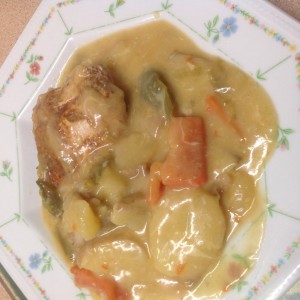 Cheesy Chicken and Potato
Ingredients
4- 6 Chicken Thigh fillets

1/2 green capsicum , 1/2 red capsicum

Paprika

1 tin cream of chicken soup

3-4 red potatoes

2 tablespoons plain flour or cornflour

1 1/2 cups grated cheddar cheese

1 1/2 teaspoons Worcestershire sauce

Salt & pepper
Instructions
Spray SC with oil. Chop the capsicums cube size and dice the potatoes thin.

Cover bottom of SC with capsicum and potatoes. Sprinkle thighs with paprika and rub in. Place 3-4 thighs over the vegetables and cover with half the tin of chicken soup. Layer another 3-4 thighs and cover with the remainder of the soup. Cook on high 2-3 hours. Remove the chicken and vegetables and set aside.

Add the flour to the cooking sauce and whisk out any lumps. Add the cheese and stir until melted. Add Worcestershire sauce and stir until combined. Add salt and pepper.

Plate the chicken and vegetables and spoon over the sauce.