Submitted by Hannah Straw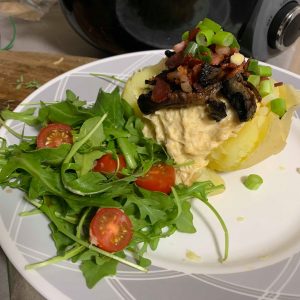 Cheese Platter Chicken
Ingredients
Any leftover cheese (at least 1 cup)

Any left over dip. ( I used French onion)

3 chicken breasts

300ml of cooking cream

Salt to taste

Pepper to taste

Mushroom (if desired)

Bacon (if desired)

Spring onion (if desired)
Instructions
Place chicken, cheese, dip and cooking cream into slow cooker

Cover and Cook for 6 hours on low or 4 on high.

Pull out chicken, shred and return to pot.

Mix through and season with salt and pepper to taste

Fry off mushrooms and bacon (if desired)

Serve on pasta, potatoes, rice etc and top with crispy bacon, mushrooms and spring onions

Enjoy!
Notes
Cheese platter chicken is a way to use upon those little pieces of cheese and half containers of dip that just end up sitting at the back of your fridge. It's incredibly versatile with endless combinations and an excellent way to reduce waste. Have fun!

Always season at the end as you never know how salty your cheese is going to be.

I suggest serving it with something fresh like a salad or vege