Submitted by Amanda Evans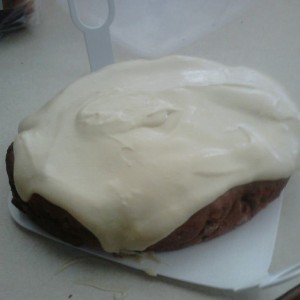 Date Cake with butterscotch cream cheese icing
Ingredients
1 cup of dates and 1 cup of water.

2 eggs lightly beaten

1 cup vegetable / canola oil

1 teaspoon vanilla essence

¼ cup warm water

1 cup greek yogurt

2 cups self raising flour

½ cup brown sugar

2 teaspoons cinnamon

1 teaspoon mixed spice

½ teaspoon nutmeg

½ teaspoon ground ginger
Butterscotch sauce
1 tablespoon golden syrup

1 cup brown sugar

½ tin condensed milk

100 grams butter / margarine
Cream Cheese Frosting
125 gm butter / margarine – room temperature

125 gm cream cheese – room temperature

1 teaspoon vanilla essence

Approx. 500gm icing sugar
Instructions
Simmer dates in water till dates are soft.

Whisk wet ingredients together then add the date mix to them.

Mix together dry ingredients, then mix through the wet ingredients

Cook on high in a lined slow cooker (mine is 5.5L) for 1 ½ hours on high. With a tea towel under the lid.

Cook butterscotch sauce ingredients in saucepan over medium heat till combined and butter melted through.

Let cool

Mix cream cheese frosting ingredients together

Slowly add the butterscotch sauce till you get the required thickness

Use any left-over butterscotch sauce to drizzle over the iced cake.