Submitted by Kim Bennett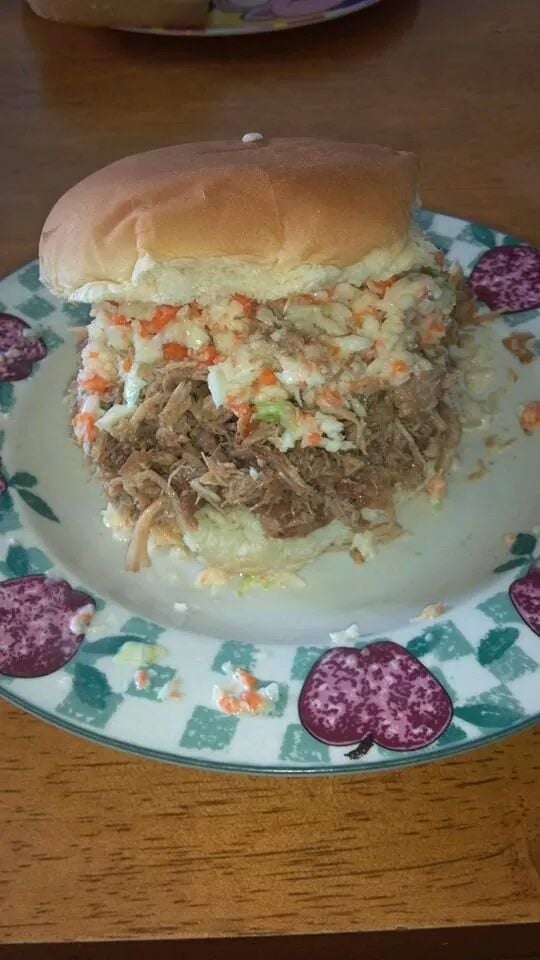 Carolina Pulled Pork
Ingredients
2 onions, quartered

2 tbsp brown sugar

1 tbsp paprika

2 tsp salt

1/2 tsp pepper

1 tbsp liquid smoke

1 (4-6lb) pork butt or shoulder roast (can use pork ribs as well)

1 cup apple cider vinegar

1/3 cup Worcestershire sauce

1 1/2 tsp crushed red pepper flakes

2 tsp sugar

1/2 tsp dry mustard

1/2 tsp granulated garlic

1/2 tsp cayenne pepper
Instructions
Place onions in crock pot. Blend brown sugar, paprika, salt & pepper. Rub over roast and place in crock pot. Drizzle liquid smoke over pork.

Combine in a bowl vinegar, worcestershire, red pepper flakes, sugar, dry mustard, garlic and cayenne. Stir.

Drizzle about 1/3 of vinegar mixture over roast. Cover remaining mixture and put aside. Cook on low 8-10 hours. Take out meat and pour liquid out. Shred/chop up pork till fine and put back in crock pot. Add a little bit of reserved mixture that was put aside to only keep it a tad moist not wet.

Serve on a hamburger bun with your favorite coleslaw and a side of potato salad and hush puppies. Enjoy!