These are old school Lolly Gobble Bliss Bombs!
Submitted by Simon Christie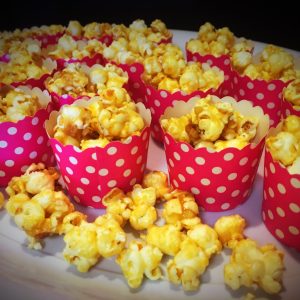 Caramel Popcorn Bombs
These are old school Lolly Gobble Bliss Bombs!
Ingredients
100g butter

2/3 cup fine white (caster) sugar

2 Tablespoons honey

8 cups pre popped corn (1/3-1/2 cup unpopped)

1/3 cup roughly crushed pecans
Instructions
I used a 7 litre slow cooker. Allow additional time for cookers with less surface area.

Put popped corn into container and set aside.

Turn cooker on HIGH

Put butter, sugar and honey into slow cooker.

Melt and combine until sugar is dissolved. (approx. 5-10 min)

Place lid on with TEA TOWEL in place.

Cook on HIGH for a further 30 minutes depending on cooker.

Caramel is ready when a light golden brown.

Turn off slow cooker.

Add crushed pecans and stir through.

Pour pecan caramel over popcorn and mix through till evenly coated.

Place onto baking paper lined tray and spread out.

Allow to cool fully.

Break apart and store in an airtight container.