Submitted by Tanya Eade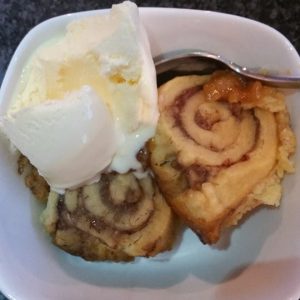 Caramel Banana Whirls
Ingredients
75g butter

1 1/2 cups flour

2 1/2 teaspoons baking powder

1/3 cup milk

1/2 teaspoon cinnamon

2 medium bananas mashed

Sauce: (sauce soaks into Whirls when it bakes, so if you want extra saucey goodness at the end, double this mixture).

2 Tablespoons Golden syrup

1/2 cup brown sugar

1 Tablespoon butter

1/2 cup water
Instructions
Rub butter into flour & baking powder, add sufficient milk to form a scone dough.

Roll out dough onto a lightly floured surface in a rectangle shape. Spread banana over and then sprinkle with cinnamon. Roll and cut.

Line slow cooker with baking paper and then lightly spray with cooking spray. Put the whirls into the slow cooker.

Combine the sauce ingredients in a microwave safe bowl and cook on high for 2 minutes and stir.

Pour the sauce over the whirls and place a tea towel over the slow cooker and then the lid. Cook on high for 1 - 1 1/2 hours.

Best served with ice cream or cream!